Community leaders celebrated with College of the Desert during its annual State of the College luncheon on Wednesday, Jan 22. Held in the amphitheater on the Palm Desert campus, the event overlooked the recently renovated Hilb and International Fountain of Knowledge.
Led by Superintendent/President Joel L. Kinnamon, Ed.D., the event provided information on the recent progress that has taken place at the institution as well as celebrated the history that is a part of the College.
"The courtyard features the entrance to the Hilb and the International Fountain of Knowledge, an unarguably stunning focal point for the College that was originally funded by Dr. Reynaldo J. Carreón, who dedicated his life to furthering education and creating opportunities for local Latino students," said Dr. Kinnamon.
The three-level Hilb, named in honor of its benefactors, Jeane and Justin Hilb, has been rebuilt to environmentally sustainable standards while maintaining its iconic, mid-century modern style. The remodel brings the College library back to its original home, where it resided from 1964 to 1995. The updated building more than doubles the size of the current campus library and improves functionality by adding more natural light and creating a modern study space.
"These locations have provided a place of peaceful relaxation and energizing conversation for students, faculty and visitors for decades and will continue to do so for years to come," said Dr. Kinnamon.
The event also highlighted ways the College is expanding its footprint to serve additional students in both the eastern and western Coachella Valley.
"While new facilities are very impressive, what really excites us are some of the new programs we are creating to truly inspire people to create tomorrow. Our entire college community is taking daring actions to push past the status quo and lead the way to a brighter future," said Dr. Kinnamon.
Since opening its doors more than 60 years ago, the institution has experienced tremendous change and incredible success, leading it to become one of the fastest growing community colleges in the state. In 2019 alone, the College celebrated 1,394 graduates, an all-time high, and that number is expected to grow next year.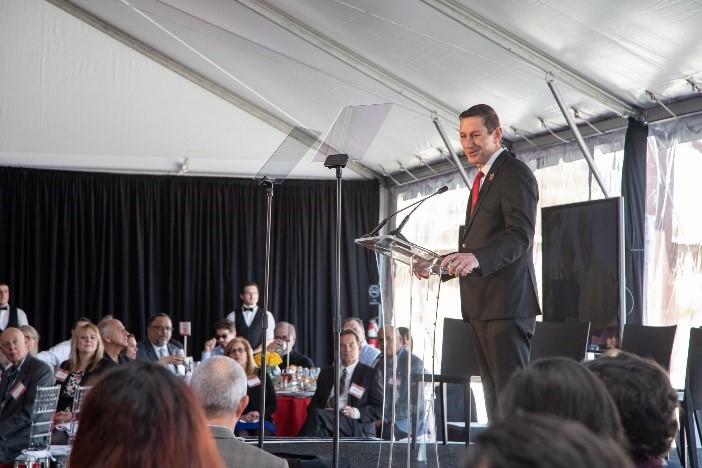 Superintendent/President Joel L. Kinnamon, Ed.D. addresses the audience during State of the College 2020. Photo by Lani Garfield.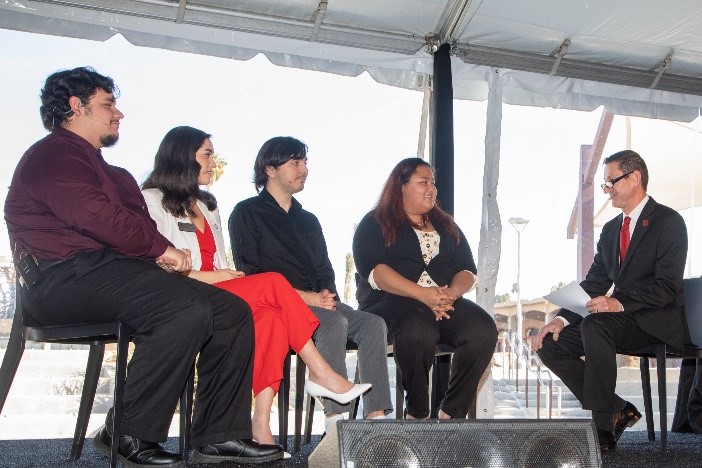 Superintendent/President Joel L. Kinnamon, Ed.D. moderated a panel of students who discussed the important impacts the College is making in their lives and the lives of others. From left to right: Bruno Lopez-Vega, Keanna Garcia, Phoenix Duarte-Commandeur and Yahaira Murillo. Photo by Lani Garfield.