Requisitos y protocolos relacionados con el COVID para estudiantes y empleados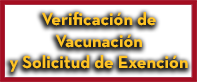 En preparación para ofrecer clases en persona, hemos desarrollado las siguientes directrices y protocolos de seguridad. Por favor continúe monitoreando nuestro sitio web y su correo electrónico de College of the Desert para obtener actualizaciones adicionales.
A partir del 31 de mayo de 2022, ya no se requieren máscaras faciales en College of the Desert. Aunque las máscaras ahora son opcionales, el Comité de Seguridad del campus recomienda que todos los estudiantes, empleados y la facultad usen máscaras mientras están en el interior del campus.