Dr. Anthony Fesmire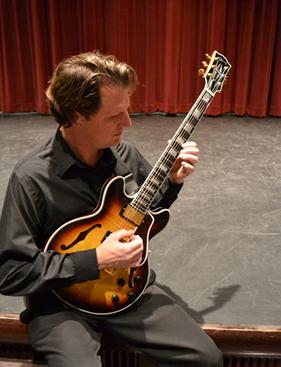 Dr. Anthony Fesmire is a versatile guitarist, composer, and music educator based in southern California. He is the founder of the Jazz Studies program and coordinates the instrumental music major program at College of the Desert in Palm Desert, California. An Associate Professor of Music, he teaches the full sequence of music theory courses and jazz guitar and has directed the Jazz Band, Jazz Combos, and Jazz Guitar Ensembles. He holds a Bachelor of Music degree from Berklee College of Music and a Master of Music degree from the University of Southern California, both in guitar performance. He received his Doctor of Arts degree in music education and music theory from the University of Northern Colorado. He has additional training in Kodaly methodology, Orff Schulwerk, and Suzuki guitar. Prior to joining the faculty at College of the Desert, Dr. Fesmire coordinated the music education program at Ohio Wesleyan University, teaching upper division music methods courses and supervising student teachers at all levels K-12 in instrumental, choral, and elementary general music areas. Other college teaching experience includes the directing of jazz ensembles and the teaching of music education courses at the University of Northern Colorado and additional work at Aims Community College and the University of La Verne.
In addition to teaching at the collegiate level, Dr. Fesmire has taught high school and middle school for the Palos Verdes Peninsula Unified School District. He has directed student ensembles at festivals throughout the United States including winning superior ratings at the two largest student jazz festivals in the country: the UNC Greeley Jazz Festival and the Berklee College of Music High School Jazz Festival where Palos Verdes Peninsula High School was a top scoring group. In addition, his student jazz ensembles have performed at the California Association for Music Education's State Conference and the Kennedy Center for the Performing Arts in Washington D.C. where PVPHS was recognized as a National School of Distinction in the Arts. In addition to his K-12 and college level teaching experience, Dr. Fesmire spent two years as an artist-in-residence for the California Arts in Corrections program where he taught guitar and music theory courses and produced two CDs of music composed by the inmates. He has released two additional CDs of student performances: Steps, featuring ensembles from the College of the Desert instrumental music program; and Jazz 2004, featuring the jazz bands of Palos Verdes Peninsula High School. A second College of the Desert CD is slated for release in spring 2015. In addition, Dr. Fesmire has presented clinics and research presentations at music education conferences in California, Colorado, and Ohio on topics ranging from improving articulation in student jazz ensembles to the historical development of the national standards movement in music education.
Dr. Fesmire is a guitarist with extensive performance experience including an appearance at the International Association of Jazz Educators Convention and the release of two CDs: Songs Without Words, featuring Hiroyuki Harada on bass, Takehiko Murikami on keyboards, and Chris Yeoman on drums; and Sunless City with his current band Outside Pedestrian, featuring David Lockeretz on bass, David Kontesz on drums, Matt Zebley on saxophone, and Joe Bagg on Hammond B-3. Outside Pedestrian's current album, entitled Reclaimed, features David Lockeretz on bass, David Oromaner on drums, Kelly Corbin on saxophone, and Reed Gratz on piano. While a student at Berklee College of Music, Dr. Fesmire's guitar work was featured on numerous concerts and recitals including the well known "Singer's Showcase", the "Entering Student Convocation", his own performance in Berklee's famed Performance Center, and was featured on the CD "Berklee Students Making Tracks". In subsequent years, he has focused his performance on his form of modern jazz in addition to freelance jazz, musical theatre, and other gigs. He draws influence from an eclectic group of performers and composers including Pat Metheny, John Scofield, John Petrucci, Joe Diorio, Eric Clapton, Joe Satriani, Stravinsky, Ellington, Brahms, Miles Davis, John Coltranne, Bartok, among many others. He has studied privately with Joe Diorio, John Pisano, Jon Finn, and Bret Willmott.
As a composer, Dr. Fesmire's work is inseparable from his work as a guitarist. He draws heavily on the harmonic language of jazz including advanced modal harmony, non-functional harmony, intervalic melodic writing, and other techniques, counterpoint and other formal traditions of the common practice composers, odd and mixed meter and other advanced rhythmic concepts, and the language of modern jazz improvisation, fused with a solid grasp of jazz, rock, blues, and other contemporary styles.
For more information, visit: www.anthonyfesmire.com.