Kurt Jordan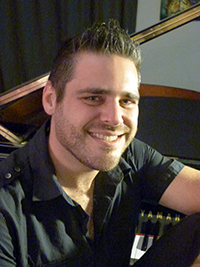 Kurt Jordan developed an intense interest in learning the piano after having seen The Phantom of the Opera with his parents at age 10. He studied under the guidance of Joann Algier throughout middle and high school, during which time he discovered a love of music using multiple pianos. This passion was further explored at Azusa Pacific University while studying with Dr. Robert Sage.
Kurt performed several recitals of material he arranged for two and three pianos, the recordings of which have received radio play in Los Angeles, Santa Barbara, Santa Cruz, Boston, Austin, and Beirut. In 2009, Kurt had the honor of performing the West Coast premiere of Alvin Curran's 7.5 hours long piano song cycle, Inner Cities 1-13, as well as the U.S. premiere of movement 14 at Burning Man in 2013.
Kurt graduated from Azusa Pacific University in 2010 with a BA in Music Theory and Composition. Kurt is involved as accompanist for many musical groups throughout the Coachella Valley including: Harmonic Voices, Melodiam, Cathedral High School Chamber Singers, The Arrangement, Black Tie Opera, and Songshine, a non-profit organization that teaches speech therapy through music for people with Parkinson's Disease and stroke, as well as working at College of the Desert as an accompanist among many other things. Most recently Kurt has become the Principal Accompanist for Modern Men, as well as The Unitarian Universalist Church of the Desert.