Shea New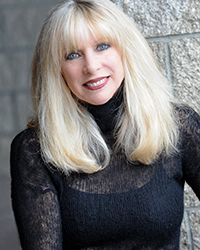 Shea New serves as adjunct faculty in dance at College of the Desert since 1987 choreographing for Celebration, opera workshops and theatre productions. Her classes include ballet, jazz, tap, theatre dance, dance performance, music theatre workshop and history of dance. She also coached the COD dance team.
Her life in the arts and passion for dance guided her to create and found the Dance Under The Stars Choreography Festival in 1998 which sprung from a COD dance concert the previous year. Now known simply as The Choreography Festival and produced by the McCallum Theatre Institute, Shea serves as Artistic Director. The nationally known festival has awarded over a half million dollars directly to choreographers, presenting over 600 choreographers since its inception. Lifetime Achievement Awards have been presented to Savion Glover, Nigel Lythgoe, Daniel Ezralow, Suzanne Farrell, Jacques D'Amboise, Colleen Neary and Thordal Christensen, Donald McKayle, Lula Washington, Joe Tremaine, Carmen de Lavallade, Marc Breaux, Dee Dee Wood, George Chakiris, Rudy Perez, Julie McDonald, Alan Johnson, Lois Greenfield, Grover Dale, Glen Tetley and Eugene Loring.
Before embarking on a professional career, Shea received her BA in choreography from UC Irvine where she studied with renowned choreographers Eugene Loring, Antony Tudor, Arthur Mitchell, and Joe Tremaine, then furthered her education with Merce Cunningham Dance Company, San Diego Ballet and National Ballet of Canada. Shea began her career as a dancer with the Folies Bergere and as a founding member of Nevada Ballet Theatre. She became lead dancer for many extravaganza shows across the United States and went on to appear in movies and television including Fear City and Vega$, before focusing her skills behind the scenes for such projects as Paragon Pictures' Tips, Sinatra My Way, Fantasy Spring's Festivale!, The Golden Years of the Silver Screen, Blues Boulevard, Broadway Bow and The Planet ÔK, a recipient of a Keyboard Magazine award. Rent, Rocky Horror, Oklahoma, Sugar, Merry Widow, Marriage of Figaro, I Paggliacci, Il Travatore, Amahl and the Night Visitors, Red Hot and Cole, Once Upon A Mattress and Grease are among the productions she has choreographed in the valley. She has taught for Idyllwild School of the Arts, Palm Springs Unified and Desert Sands school districts, McCallum Theatre Institute Aesthetic Education Program (training with New York's Lincoln Center Aesthetic Education Program), Riverside Arts and numerous dance studios from Morro Landis in LA to the desert including her own CC Professional Arts Center. She proudly served as an artist in residence for Palm Springs Unified School District.
The Desert Theatre League has honored her with the 1999 Michael Grossman Most Inspirational Award for her work in the arts, a special award for her original musical Blues Boulevard and many other awards including best choreography and best set design in addition to numerous nominations for best director, original writing and choreography. She co-directed COD's McCallum production of Evita with Dr. Darlene Romano sharing a DTL award for direction and an additional award for best choreography. The American Pen Women has honored her as a Woman of Distinction. Other awards include Outstanding Adjunct faculty in 2012 for COD, the Governor's Scholar Award presented by Ronald Reagan and Best Choreography for Cathy Roe's Ultimate Dance Competition. Shea has assisted many non-profits in her field including Palm Springs Dance Festival, Dance For Life, Village Center for the Arts, Professional Dancers Society and as a board member for the Coachella Valley Arts Alliance.
​​​​​​