Meet the Staff
All staff is available online via Zoom conference.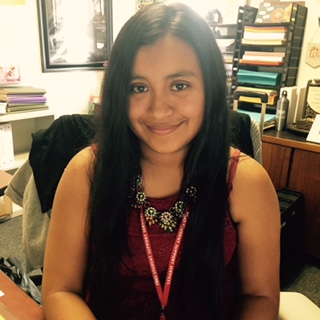 Tula Marin, M.A., P.P.S.C.
Director of TRIO SSS DSPS
760-636-7974 Extension 2152 or 760-537-5142 Phone and text
tmarin@collegeofthedesert.edu
About Tula:
I am the TRiO DSPS Director. I am also an advisor for TRiO Club. I am excited to be able to work with each and every single one of you.
I have worked within Federal TRiO grants for 16 years, and my passion is creating student success and building a TRiO family. I started in the field of education as an AVID Tutor, then became an Earth Science Teacher, Counselor, Coordinator and now TRiO Director. Each experience has been a wonderful because I have enjoyed the opportunity to work with students and share my story and experiences. For my own education, I attended the University of Redlands for my Bachelor's Degree in Liberal Studies and minor in Physical Education. After my Bachelor's Degree, I continued at University of Redlands where I earned my Master's Degree in Counseling. I attended San Diego State University for additional courses to enhance my experiences in community college counseling.
I am a true believer of and am passionate about Higher Education. Many of you have seen me on campus when I was the TRiO EVC Coordinator, Counselor, and Project Director. I was previously located at the Mecca Thermal Campus serving TRIO EVC students. I am very excited to be the Director of TRiO DSPS SSS.
Kimberly Brooks
TRiO SSS DSPS/Adjunct Counselor
619-800-4283 Phone and text
kbrooks@collegeofthedesert.edu
Michael Taylor
TRiO SSS DSPS/ Instructional Support Specialist
760-636-7974 Extension 4458 mtaylor@collegeofthedesert.edu
About Michael:
I am the Instructional support Specialist for TRIO DSPS. I have worked for community colleges for over 20 years as a Professor, Program Coordinator, IT support specialist, and student tutor. I am delighted to be part of the TRIO DSPS team where I will focus with students to succeed in their program of study and direct them to the several resources accessible to them. I hold a bachelor's degree In Business from Arizona State University and master's degree in education from Seattle University and continue to be a lifelong learner. I take great pride in being approachable and enjoy every aspect of working with students.
Dani Ward
TRiO SSS DSPS/ Program Secretary
Phone 760-636-7974
dward@collegeofthedesert.ed
About Dani:
Born and raised in New Jersey, Ms. Ward relocated to the Coachella Valley in Spring 2019 and joined COD that fall. She brings to our program, many years of administrative experience, most of which was acquired while working in the TRIO Program at Seton Hall University and in the School of Business and administrative offices at Saint Peter's University on the east coast. Additionally, as a mother of four recent college graduates, Ms. Ward has learned to navigate post secondary education from a unique perspective, that of a parent. TRIO students hold a special place in Ms. Ward's life and she is always eager to lend a hand or her ear when needed.